Newsletter of Chip & Tammy Welton
Col 3:15 And let the peace of God rule in your hearts, to which also you
were called in one body; and be thankful.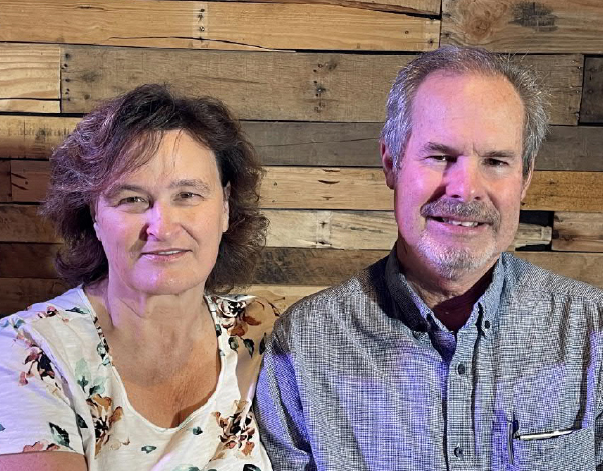 We missed Thanksgiving in Canada again as we were in the US, and missed the US thanksgiving being back in Canada, but we still have much to give thanks to the Lord. Our faithful 2011 Rav 4 (with 351 K) took us to New York and back again with no problems even though there was much snow and ice on the return trip. Tammy's mom improved greatly from her post hip surgery complications. We went to NY to be a help to her. While there, it was a blessing being a part of the Perth Bible Church Oct 16 – 23 missions conference with many speaking opportunities. I also had the privilege of speaking at the Adirondack Baptist Church in NY. The fall colors back east were spectacular. It seemed like a foretaste of heaven.

Looking back over the months since our last letter…
This summer I met a Muslim gentleman on the street. We had a long initial discussion. He said he was interested in studying the Bible. We met another day on the street in Calgary and I went with him thinking we were going to his house but we ended up at a large Mosque. He had 2 others there waiting for us. They were very nice and gave me a tour. Afterward we did have our Bible study which was a great opportunity to share Christ. It was a first for me in a mosque. I have been back a second time and met with the Imam (main teacher) and some others for a long discussion.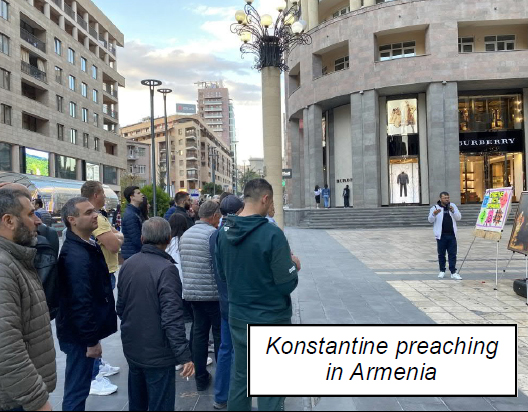 We had our first ever outreach in Armenia. Our OAC Russia staff man Konstantine and his family and our former Director were there because they were in danger of being drafted into the Russian army even though both of them are in their forties. The draft has ended for now and they are all back in Russia.
This man in the picture at the right gave a testimony in church the day after hearing the Gospel preached on the street in Armenia. He said he was thankful to hear about God, and that he was able to find a church where he can know more about the Lord. Konstantine helped him to find the way to God.
Konstantine wrote, "Last month in the City of Ryazan, Russia with a population 530,000 and less than one percent evangelical, a pastor invited me to go out for evangelism. I came to this city and preached for three days. More than 200 people heard the gospel. Thirty people wanted to study the Bible. A group now meets once a week. I led the first group, and then Pastor continued. Thank God, five meetings have already passed, and people are coming.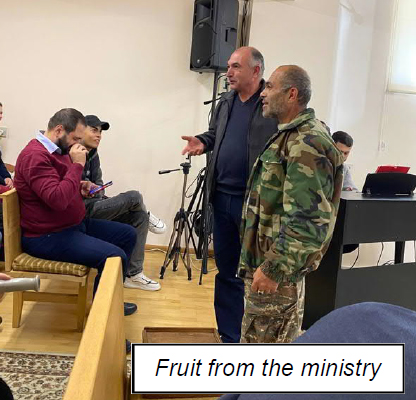 Concerning our work in Ukraine, Anatoliy's text on Nov. 17 can give you a flavor of what they are experiencing. Anatoliy wrote : "Please pray for us, yesterday and today we have massive air attack from Russia. No electricity for long time…" Conflict is not only a huge issue in Russia and Ukraine but tribal conflict in The Congo and political unrest in Bolivia. Seems like wars and rumors of war abound. Praise God our work in Asia continues on even with persecution. In a recent outreach our staff report that 7 families came to the church we were working with.
Tammy's Corner
Once again we're headed towards the coldest months of the year. We came back home to snow covering everything. I was unable to prepare my flower gardens for their winter rest. I will just have to wait and see how they turn out in the spring. Everyone here is just trying to stay warm as we face the frigid weather. Seth, Malia and children had been sick for weeks before we got home. They were telling me that half of the kids in their classes were out sick. At church I was greeted by a good friend whom I hadn't seen in 2 months. We hugged as friends do and sat close. The next day we both woke up sick. Then Chip got sick from me. I haven't been able to see anyone else yet except Rebekah when we picked up the animals. It was good to see Rebekah and the animals as well. We are looking forward to spending Christmas time with the kids (if we ever get over these colds). I had some Christmas craft days planned so I'm praying that we will be better soon and be able to celebrate the Reason we come together each year.
Health Report: It has taken a little longer than expected to get my energy back from the heart surgery but little by little progress is being made. I am having trouble with my left ear and am seeing a specialist. Tammy and I both would appreciate prayer for good health.
Please pray for the Lord's provision for our Where Most Needed (WMN) Fund. Every month we send over $5000 to keep the branches in Asia, Russia , Kenya, Peru and Paraguay going.
Thanksgiving has come and gone, Christmas is coming soon. May each of you have a very joyful celebration of the Lord's first coming as we wait and watch for the Second.
Chip and Tammy
Acts 20:24