Newsletter of David Wilson
"Turn to me and be saved, all you ends of the earth; for I am God, and there is no other." (Isaiah 45:22)
Dear Friend,
When we think of the Amazon, we think of it as being at the "ends of the earth." But the  Indians living there are precious in God's sight. He desires for them to turn to Him and be saved. This is why Christ told believers to proclaim the gospel to the whole world.
AMAZON RIVER - BRAZIL This enormous river is the largest in the world. It provides 20% of the oceans' fresh water supply on earth. It discharges over 200,000 cubic yards of water into the Atlantic every second. Creatures living in the river include anaconda snakes growing up to 30 feet, bull sharks, and little piranhas with sharp teeth. Ocean-going ships can ascend the river 1000 miles to the city of Manaus.
We arrived at the Manaus airport, two teams of 11 from the US led by Debi our WP secretary, and 17 from Brazil led by Bruno our WP Brazil Director. One team was to do evangelism, and the other team was to do medical work and share the gospel with every patient. We boarded a large ship belonging to the Presbyterian mission. Most of us were in cabins holding four people. It was hot and humid. The captain gave us instructions, part of which was not to brush out teeth with the water from the bathroom basins as it was river water, the same as the showers. Instead, we could get clean drinking water from a large bottle, and brush our teeth leaning over the railings. He cautioned us to look first to see that no one was standing at the railings on the deck below! That night we set sail following the banks of the river with the captain navigating with a spotlight.
The next morning we awakened to see our ship had tied up to trees at a bank. There was no dock. A Presbyterian church stood in the village, and I preached at their Sunday service with Bruno translating. The Indian pastor was especially encouraged, saying it was a "message from heaven." We also had two children's meetings in the open air with all ages present, and many prayed to trust Christ. Everyone spoke Portuguese.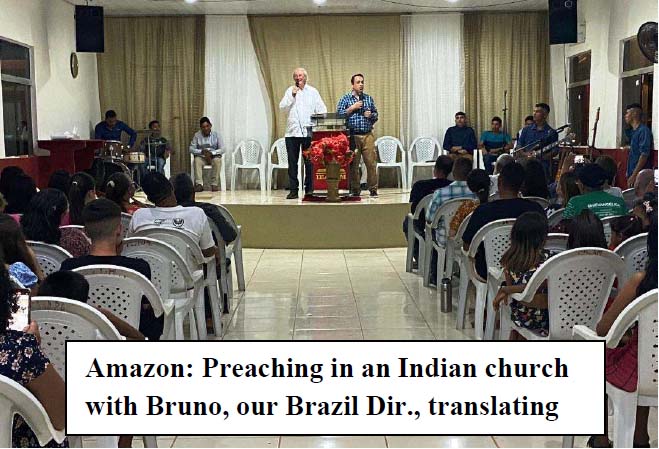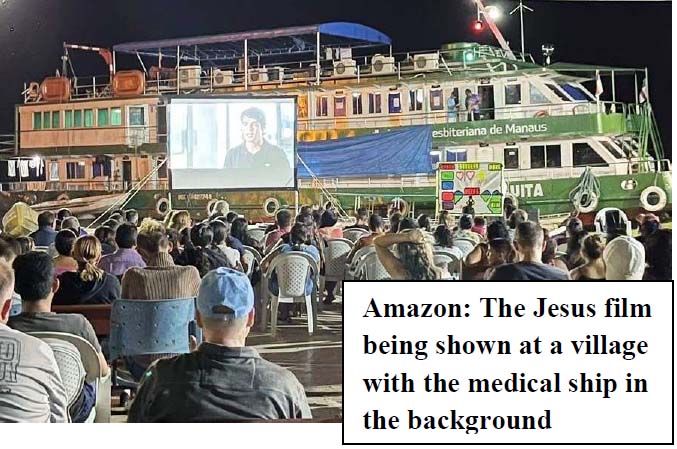 At night a crowd watched the JESUS film and preaching. Many prayed to trust Christ, with no one wanting to leave at the end. Each day people lined up for medical treatment, many of them with parasites, probably from swimming in the river. The Good News of Salvation was shared with every patient by the medical team.
As we left for the next village at 5:30 am, the captain invited me to the bridge. We had become friends, seeing I had been an airline captain. He spoke no English, but I could understand some of his Portuguese. Then he handed over the ship's wheel to me. It was a beautiful morning, and I was told to steer east into the sun. Then he left the bridge for 30 minutes! The river was wide with different currents. I was glad to see him standing with his crew in front of the bridge jokingly pointing at me as the new Capitão. Compared with flying, everything was in slow motion. When he returned, he said we were opposite the next village, so he took the wheel and soon a church appeared as we ran up on the bank to be tied to trees. A little gangway was lowered, and we began to be greeted by the Indians. A line formed for medical help.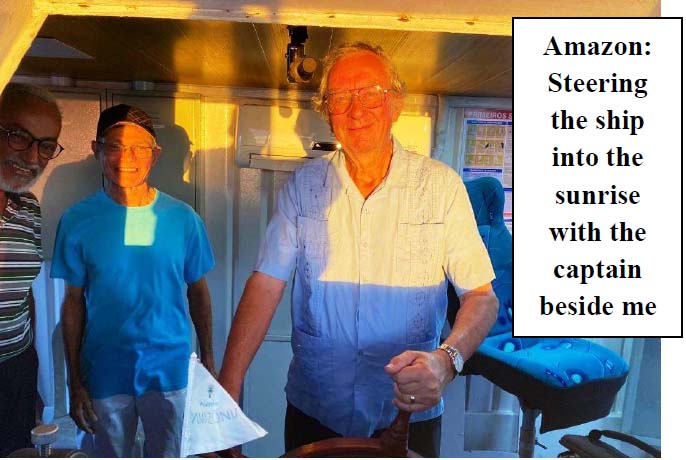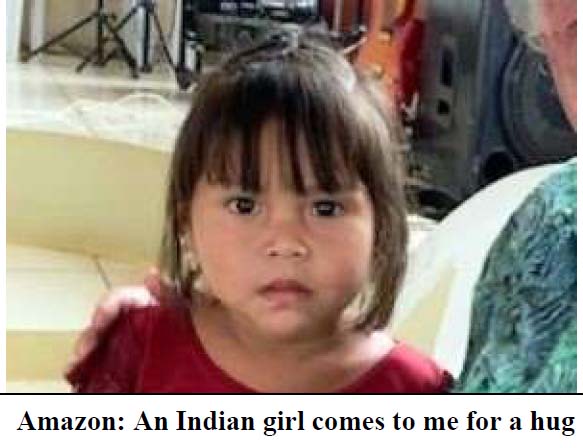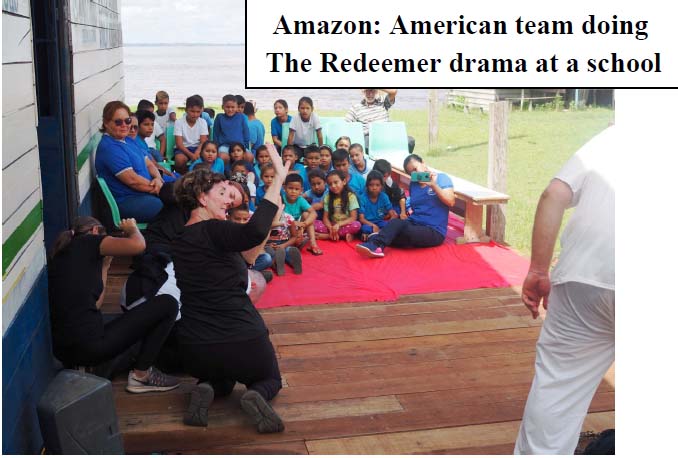 The gospel was proclaimed, and children and teachers prayed to trust Jesus. As we left, we saw the school bus arrive. It was a boat that took them to their various villages. At night, over 200 came to watch the Jesus film. They applauded both the film and message, prayed, and didn't want to leave.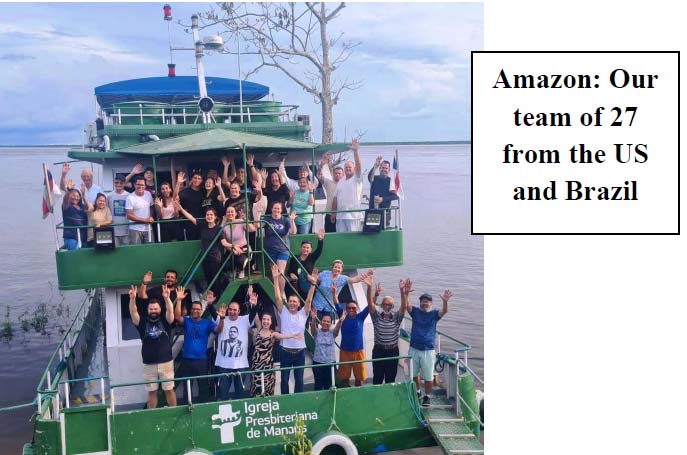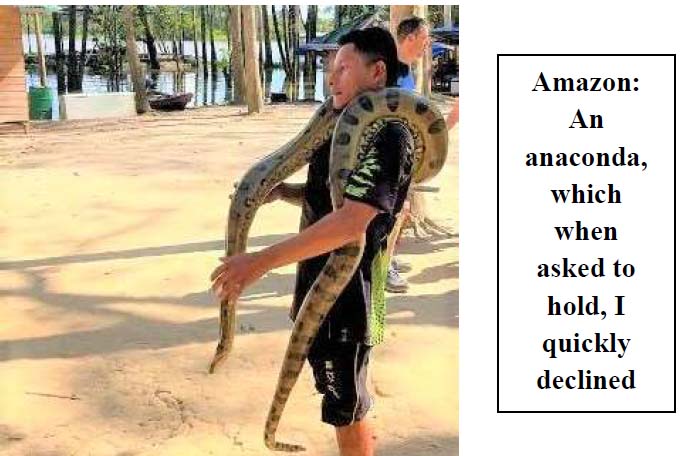 This continued day after day until we returned to Manaus, 120 miles along the Amazon. There we went on a boat tour to an Indian village that had been set up commercially for tourists. I asked the guide when the tribe had been contacted. He said about 35 years ago. Before that, he said, they would have killed us! Now they were friendly and making money. We watched them dancing, blowing pitch pipes, holding a large anaconda, etc. The next morning we all flew home, praising God.
ASIA For over 30 years we have had Sewing Schools in each branch to help the poor, required by the government for us to send in funds. This year one school alone graduated over 30 women in two batches. No pressure is ever put on them to convert, but some always open their hearts to the Lord, like Tulsi. Her teacher writes:
I had a lady at my TAILORING TRAINING CENTRE. Her name is Tulsi. She has a husband and children. She learned TAILORING. She was a non-believer. When we did Morning Devotions, she sang, 'prayed' and listened to Gospel. But she did not believe in Jesus or worship him. Then she completely finished learning tailoring and took a Certificate. A few days later her husband fell seriously ill. She performed many rituals to heal her husband and showed many doctors. She spent a lot of money to heal her husband. Yet her husband did not recover. She was very disappointed. One day she remembered something. When she came to learn Tailoring, she remembered the songs she sang, prayed and heard the words of God that praying in faith in God could heal from illness. Then she believed in Jesus and prayed for her husband. He was completely healed. Then she and her FAMILY were convinced that Jesus was true and believed in Jesus and were baptized. Now she and her family are all in God's blessing. They are happy and living under the shadow of God. So, pray for her and her family. Thank you.   Rupa
All of us in this ministry live totally by faith, including myself for the past 53 years. We are deeply grateful for you who are standing with us and for your vision for world evangelization. Gifts may also be designated for "Where Most Needed". May the Lord bless and keep you.
Donations can be made online by clicking here. 
Compelled by His Love,
David Wilson