Newsletter of David Wilson
"Peace I leave with you, my peace I give unto you: not as the world gives, give I unto you.
Let not your heart be troubled, neither let it be afraid. (John 14:27)
Dear Friend,
In the last few weeks of Elaine's life, we sat daily in our patio meditating on our favorite Bible verses. One day, when we were reading the words of Jesus about His peace in John 14:27, we both suddenly remembered a beautiful story that vividly illustrates His peace.
Years ago a major art gallery offered a prize for the best painting on the subject of  Peace. When the final decision was made, it came as a shock. The painting showed a violent storm, with huge waves crashing against the rocks. Lightning was flashing, the wind was blowing, and the dark sky was threatening. How could this be a picture of Peace! Then it was pointed out that in the crevice of the rock was a bird fast asleep while the storm raged. The bird had no fear, as it nestled down in the shelter of the great rock. The painting was truly a picture of peace.
When our trust is in the Christ of Christmas, who died for our sins and rose again, we have nothing to fear. As headlines continue to bombard us with new dangers, and we pass through the storms of life, we can have peace within. He is the Rock upon whom we can stand secure. One day in the glories of heaven, we will be in His perfect peace forever. I look forward to seeing Elaine there. Psalm 46:4-5 says, "There is a river whose streams make glad the city of God, the holy place where the Most High dwells. God is with her; she will  not fall." While there will never be peace on earth until the Prince of Peace returns, we can have the peace of God, which passes all understanding, keeping our hearts and minds through Jesus Christ. (Phil.4:7)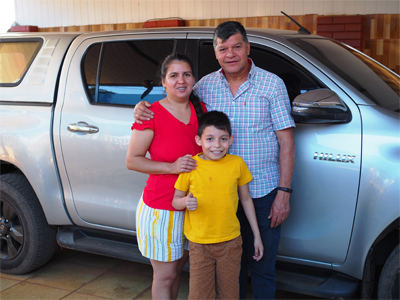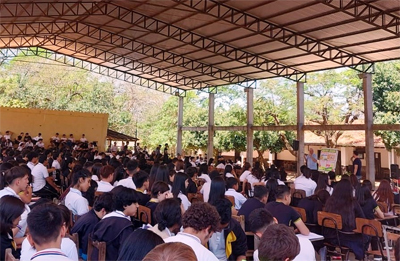 PARAGUAY  It is so good to have the pandemic behind us, and the ministries going forth into the harvest fields. What joy to see our Paraguayan evangelists reaching thousands in the public schools with great response! There are three teams, one of which is Felipe's, who has been with us for over 30 years. His wife, Fatima, arranges his schools. While we were at a school, a principal of another school called asking us to come quickly. A 15-year-old girl had called a 16-year-old boy "ignorant," which had pushed him over the edge. He had been bullied a lot, and was now carrying a pistol. Pulling it out, he shot her in the head. She was now in a coma. He was in prison. The students were in shock. So we came quickly. I spoke on Joseph in the Bible who had been bullied by his cruel brothers. They wanted him dead. Later, when Joseph became a ruler of Egypt and there was a famine, his starving brothers came to him for food. He forgave and fed them. He told them that while they meant it for evil, God meant it for good, and so Israel was saved. Truly all bullies will eventually fail. Those who are bullied should be like Joseph who left his bullies in the hands of God and won. Many students prayed to trust Christ as Savior. Felipe will visit the boy in prison. By God's grace, the girl is still alive. Please pray that both the girl and the boy will come to faith Christ, so good can come out of this evil.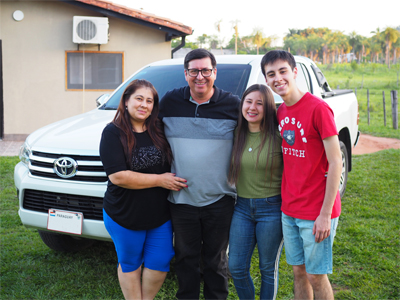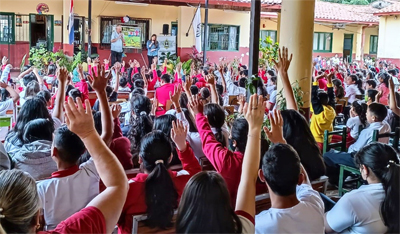 Hernan has been with us for 25 years, and was led to Christ by Felipe at one of the school assemblies. His father, mother, and siblings later came to believe  through Hernan. We enjoyed fellowship at a big they feast they all put on together for us. In the schools with Hernan's team, we saw the same big response. After clearly presenting the gospel, and inviting them to trust Christ as their Savior, many would indicate their decision to trust Christ. Only God knows their hearts, but Jesus said, "Let the children come to me… for the kingdom of heaven belongs to such as these." (Mt. 19:14) Some would come up afterwards and take photos with me (not many in Paraguay are my age). A few said in English, "I love you." Such a beautiful ministry! Hernan's daughter, Nati, asked her university professor if I could speak to her class. Her major is English. He agreed. I shared my testimony and the Chemical Cross illustration without Nati translating. They showed great interest, especially the professor.
UKRAINE  I met Anatoly in 2001 as I was training and doing open air meetings in Kiev with Bible College students. He immediately joined our mission and has been faithfully serving as an evangelist ever since. His wife, Yulia, is also a graduate from the same college. Never did we dream that he would now be a voluntary chaplain for the army in a deadly war. Their house near Kiev was occupied by Russian soldiers, but now they are back living there. They only leave to take shelter in their church basement when bombing is close. Their church has now grown to over 1000 in 2 services, with many coming to Christ. People are also coming to their home for water and prayer. He has a well and generator. If the electricity continues to fail, they will open their home for 10 people to escape the cold winter. He is very busy distributing aid, taking funerals, preaching, counseling and giving the gospel to soldiers. Please pray for them.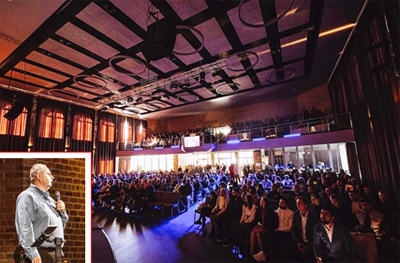 RUSSIA  Constantine, our Russian evangelist, moved temporarily to Armenia to avoid being drafted into the war, but has since moved back now that the draft has ceased. While in Armenia, he was joined with our Russian Chairman (David), and they held open air outreaches for the first time in Armenia. I plan to meet Constantine and David in Armenia next October, as I can't go to Russia because of the war (neither of them believes in the war). Armenia is wide open  for evangelism. We will use a translator, as the new generation since the Soviet Union fell does not speak Russian. It is a harvest field. After returning to Russia, Constantine went to a city 200 miles from Moscow and wrote: "Last month in the City of Ryazan, Russia, with a population 530,000 and less than one percent evangelical, a pastor invited me to go out for evangelism. I came to this city and preached for three days. More than 200 people heard the gospel. Thirty people wanted to study the Bible. A group now meets once a week. I led the first group, and then the Pastor continued. Thank God, five meetings have already passed."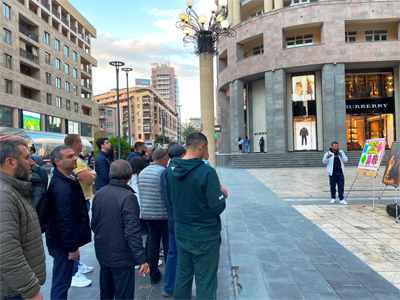 THANK YOU to those who are standing with us in this frontline ministry of evangelism with your vital prayers and support. We all live by faith, trusting God to provide through His dear people. We are  deeply grateful for you.
Donations can be made online by clicking here. 
Compelled by His Love,
David Wilson