Newsletter of David Wilson
"For I am not ashamed of the gospel of Christ, for it is the power of God to salvation for everyone who believes." 
(Romans 1:16)
Dear Friend,
When missionaries first went to Africa at the beginning of the 19th century, it was known as the "white man's graveyard." Many died through malaria and other diseases, including their children. Africa has claimed the lives of more Protestant missionaries than any other area of the world. Today, it has become a ripe harvest field. Truly, when the seed of the Gospel is sown in the blood of the martyrs, it produces an indestructible church. Even in the interior of Africa, "The gospel is the power of God to salvation for everyone who believes."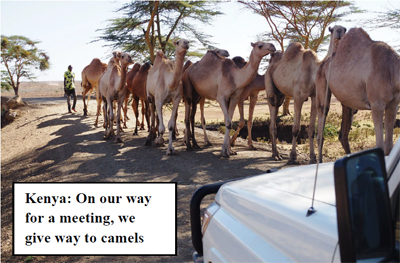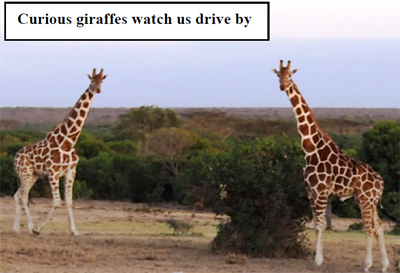 KENYA  Arriving with 220 pounds of bags including a new portable screen, I was happy to see our Kenyan staff and chairman again. Our national evangelists go mostly to villages in the interior at about 6,000 feet, on and near the equator. Mount Kenya rises high above them at 17,000 feet. As we drive to our outreaches, camels cross over a bridge before us, many zebras run freely around us, and giraffes gaze down upon us. Shepherds, often women, wander by with flocks, and at night put them in sheep folds to protect them from  lions. We stay in hotels costing $8 a night, with electrically heated shower heads. Unfortunately, when adjusting them, you can get a 220-volt shock! We eat Ugarli (crushed maize, like dough), rice, beans, spinach and chopped up bones that Kenyans have no problem removing the meat from with their big beautiful teeth. None have has ever been to the dentist. The best meal was the one prepared by Jacinta with nicely cooked potatoes (pronounced po-tah-toes).
There is a severe drought in Kenya right now, with thick dust covering everything, including our shoes and clothes. Rivers are dry. Water has to come from tube wells. All day long the hotel was selling water from its well. One man with 3 donkeys yoked to a cart containing many plastic cans came several times a day to buy water for selling.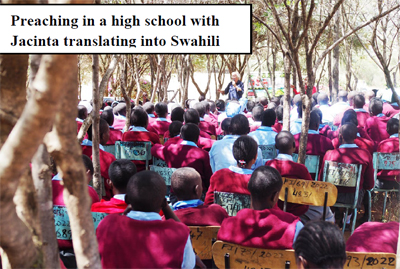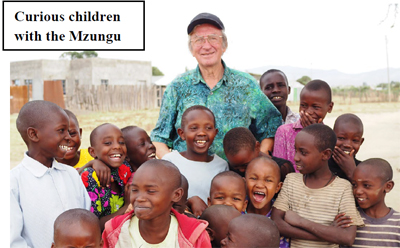 With a population of about 52,000,000, and life expectance of about 54 years, there are almost none with white hair like me! About 43% are under the age of 15 years. Around 500 pass away every day due to AIDS, despite the slowing down of the infection rate. There is full freedom of religion, making the public schools a harvest field. Both elementary and high school Principals welcome us, saying how very important it is for their students to hear the Word of God. As we arrive at each school, suddenly students stop in their tracks to stare at the Mzungu (Mah-zoon-gu / white man). I feel like an alien visitor from outer space, but they are always very friendly with some touching my skin and hair. However, once I begin to preach with Jacinta translating, the focus quickly shifts from the strange visitor to God's word.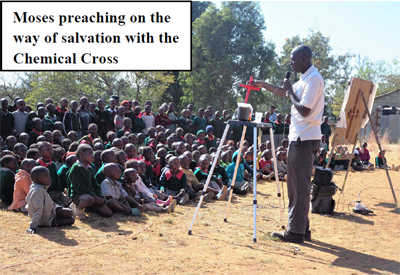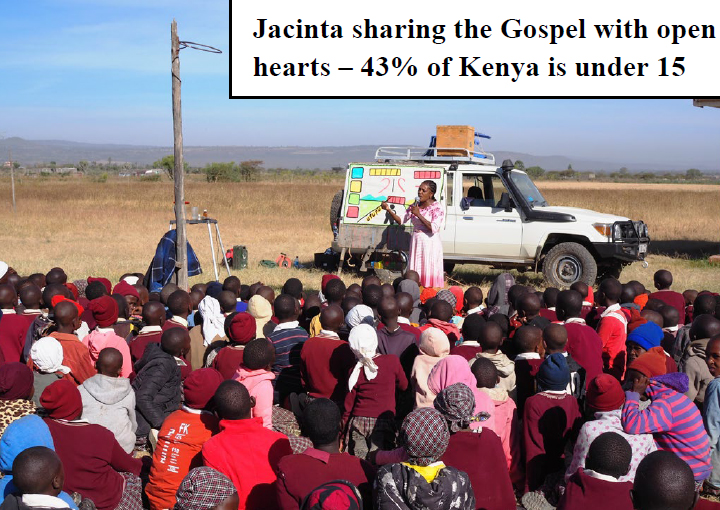 The messages of Jesus (Prodigal Son, Rich Fool, Lazarus and the Rich Man, etc.), all speak directly and powerfully to their hearts, with many praying out loud to trust Christ as their Savior. We give Chick Tracts (This Was Your Life) to the teachers to distribute to all students and staff, which helps reinforce the message of salvation. They are written in comic book form with African characters. We don't give them directly to the students, or we would be trampled! Both Jacinta and Moses preach the Gospel clearly, and God is greatly using them.
Though many claim to be Christians in Kenya, less than 7% attend church. There is a great need for the proclamation of the pure Gospel. At night Moses drives around announcing our film on JESUS in Swahili. As we set up, children come, followed by adults.  All stay for two hours, most of them standing, completely absorbed in the teachings and life of Jesus. We always follow the film with preaching, showing Jesus as the only way of salvation. I even found that I could preach on the Judgment with no one leaving. Many openly pray to trust Christ as Savior. At the end, some come to take photos of the message on the sketch board in black light. Each meeting was linked to a local church, with the pastor often praying a benediction.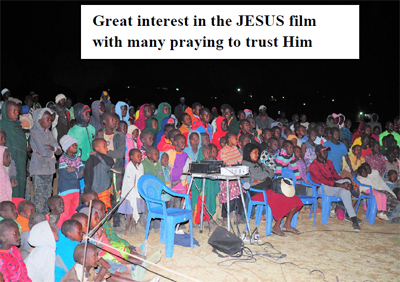 Even during the pandemic last year our evangelists reached over 60,000. This year they should  reach over 100,000, as they did prior to the pandemic. Truly God is at work in Kenya … it is harvest-time. Please pray for our evangelists.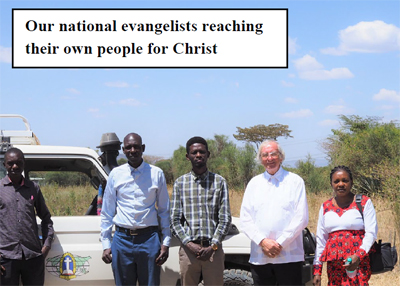 UKRAINE Anatoly, our Ukrainian evangelist, lives near Kiev, and continues to be a chaplain for the army (no salary). A few years ago I was with him in Mariupol where we saw many respond to the gospel. Now much of the city is destroyed, with many killed and hundreds of soldiers taken prisoners of war. As fighting continues, Anatoly, Yulia and Anastasia (daughter) take shelter in their church basement when warned of incoming missiles. Recently 61 missiles came in one night with 51 intercepted, but the remaining 10 did much damage. He continues to help refugees with food and housing. Sometimes they cry and kiss his hand. He shares the gospel with them and prays. Also, he often preaches to a battalion of 430 soldiers, and shows them how to download the Bible on their phones. We are sending $1000 a month to him for diesel to drive many miles, medicines, food for widows and families, etc. He preaches at the funerals of solders, often with over 500 attending. One church, that had 45 people before the war, now has 260 every Sunday. Baptists have started seven new churches. God is turning the evil into good, as more and more hurting souls find peace with God and eternal life through faith in Christ.
IT IS HARD TO FIND WORDS TO EXPRESS MY DEEPEST APPRECIATION FOR YOU WHO ARE FAITHFULLY SUPPORTING THIS MINISTRY.
All of us live by faith. During the past 52 years I have never seen the Lord fail to provide through His people. Thank you so much!
Donations can be made online by clicking here. 
Compelled by His Love,
David Wilson